Group Supporting Obi 's Candidacy Set To Hold Summit, Book Presentation
2023 GENERAL ELECTION
A group under the aegis of Turning Point Leadership Advocacy Network, (TLAN) that is sympathetic with the Labour Party's Presidential candidate, Peter Obi is to hold, Take Back Nigeria Summit and Public Book Presentation on 27 January, 2023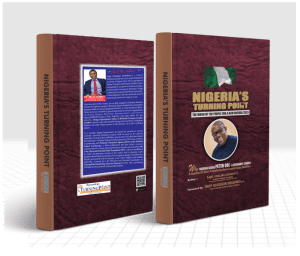 Unveiling the programme of event at a press briefing in Abuja, the national president, Capt. Uwalaka Godsbest C. who is also a political analyst said, the event slated for 3pm, Friday 27 January, 2023 will have as its theme 'Pathway to National Rebirth'. He indicated that the Take Back Nigeria Summit and public presentation of the book are meant to support the presidential election of Peter Gregory Obi.
According to him, the special ceremony which is scheduled to hold at Nigerian National Merit Award House, Abuja will feature keynote address, public book presentation and goodwill messages from visionary and selfless leaders across the six geopolitical zones.
Capt. Uwalaka explained further that the book titled: Nigeria Turning Point – The Mood of the People for a Better Nigeria, is wake up call to alert Nigerians on the transformational process that OBI-DATTI government is about to bring on board after 60 years of independence.
He stated that there is need for every patriotic Nigerian to join the moving train that is set to turn around the fortunes of Nigeria.
"The book gives an overview of the state of the nation, how corruption has bastardized the nation in a helpless situation and what needs to be done in 2023 to change the narrative.
"The book unveils the hidden truth and reality of what leadership is all about, and track records of the contestants in the race.
"The book deals with the root causes of Nigeria's leadership problems, and how Nigerians should act differently to salvage the present situation.
"The book is a review of Obi's transformational leadership qualities as a private and public servant. The book contains the trajectories of OBI-DATTI master plan for turning Nigeria from a consumption nation to a production nation.
"It also chronicles what Nigerians have said and are still saying about the person of Peter Gregory Obi aspiration. The book was sealed with Nigeria major stakeholders' opinions about 2023 election and direction Nigeria should tow."
The chairman, however, called on the general public, especially OBI-DATTI supporters, journalists, and well wishers to grace the ceremony.
"It might interest you to note that selected critical stakeholders in the Nigeria project views about state of the nation and the urgent need to enthrone a competent and visionary servant of the people which the Labour Party Presidential Candidate represents including Chief Olusegun Obasanjo, Pa Ayo Adebayo, General Ibrahim Babangida, Prof. Ango Abdullahi, Babachir Lawal, Chief Chukwuemeka Ezeife, Chimamanda Adichie and Dr. Ngozi Okonjo-Iweala among others are also well captured in this book", Uwalaka said.
Dignitaries expected at the event include former President Olusegun Obasanjo as chief guest of honor, President of Christian Association of Nigeria (CAN), Arch Bishop Daniel Okoh Special guest of honor, former Governor of Anambra State Chief Chukwuemeka Ezeife (Okwadike) as guest of honor, former ECWA President Jerimiah Gado as guest speaker, National Chairman of the Labour Party Julius Abure as chief host and others